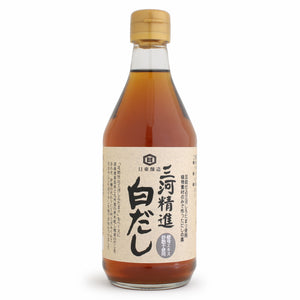 Mikawa Syojin Shiro Dashi (vegan)
Regular price $25.00 Sale
日本語の商品情報は英語の下に掲載されています。


NOTICE (please read carefully before purchasing)
First come, first served. Limited number only.

Delivery : The expected delivery is early May 2022. 

Shipping : Please check the special shipping page for this product. 
Free shipping service does not apply to this product.



*If you want to buy other products from Mono Japan Shop, please order separately as the delivery date and shipping cost is different.



*If there is damage to the product shipped to you, please email us at

 

shop@monojapan.nl

 

with a clear photo of the damaged product. We will give you a refund after confirming the damage. In this case, there is no need to return the product to us.
Mikawa Syojin Shiro Dashi (vegan)
Nitto Brewery's Mikawa Shojin Shiro Dashi is made from Mikawa Shirotamari.
Mikawa Shirotamari is a type of white soy sauce that contains no soya beans. It is a must-have fermented brewed seasoning with a perfect balance of the elegant bright colour of soy sauce, the sweetness of the wheat koji used twice as much in abundance, and the gentle flavour brought out by fermentation and maturation.
Using plant-derived ingredients in this Mikawa Shirotamari, the natural sweetness and umami of the ingredients are utilised to create this vegan white dashi, which does not rely on yeast extract, vegetable extract or sugar. 
All plant-based ingredients used are domestically produced:
Asuke-brewed Mikawa Shirotamari

Dried shiitake mushrooms from Kyushu

Dried Japanese daikon radish

Hokkaido kelp

Sanshu Mikawa Mirin
In fact, more ingredients are added for adjustment and to improve shelf-life, but Nitto has perfected its attention to detail here as well:
Izu Oshima's traditional sea salt

 Umi no Sei

(for salt adjustment).

Rice vinegar from Shobun-su in Fukuoka (to improve shelf life).

Rice shochu from Sumiya Bunjiro Shoten in Hekinan (to improve preservation).
The first five ingredients are the basis of the flavour, the other three are for adjustment.
This vegan dashi stock is a great all-round seasoning for soba-tsuyu (soba sauce), stir-fries, simmered dishes, soups and everything in between. 
Using this in the kitchen makes everything taste like ryotei restaurant. It's perfect not only for Japanese cuisine, but also for adding a little Japanese flavour to pasta, salads and Western dishes.
Brand
  Nitto Jozo
Amount (NET) 
4
00 ml
Weight
  681g
Ingredients
  Wheat, salt, shochu, Mirin, dried daikon, kombu, Shiitake, vinegar


< 日本語 >
MONO マンスリーのHara farm's 100% Organic Buckwheat Soba feat. Nitto's Vegan Shiro Dashiご購入前にお読みください。
限定予約販売:Hara farm's 100% Organic Buckwheat Soba feat. Nitto's Vegan Shiro Dashiは2022年4月13日〜5月11日までの開催ですが、限定数の販売となり、限定数が完売した時点で受注は終了いたします。お早めにお求めください。



お届け日:商品は5月初旬にお届けの予定です。



配送料:MONO マンスリーのHara farm's 100% Organic Buckwheat Soba feat. Nitto's Vegan Shiro Dashi商品の送料はこちらをご覧ください。


送料無料は適応されません。





*MONO SHOPの他の商品をご購入の方は、お手数ですが別途ご購入の手続きをお願いします。

MONO マンスリー商品のお届け日は通常商品と異なるため同時に郵送はできず、送料も別途必要となります。

*郵送による商品破損の際は、破損がわかる写真を添付の上、shop@monojapan.nl までメールをお送りください。商品破損の確認の上、代金を返金いたします。この場合は商品の返品は不要です。
日東醸造の三河精進白だし
日東醸造の三河精進白だしは、三河しろたまりを原料に作られています。
三河しろたまりは、大豆の入っていない白醤油の一つ。醤油でありながらそのエレガントで明るい色と、2倍量ふんだんに使用された小麦の麹の甘さ、発酵熟成によって引き出されたやさしい旨味が、絶妙なバランスでまとめあげられた必殺発酵醸造調味料です。
その三河しろたまりに植物由来の原料を使用し、素材本来の甘みとうまみを活かして、酵母エキスや野菜エキス、砂糖に頼らずにこの精進白だしが出来上がりました。 
使用されている植物性原料は、すべて国産です。
足助仕込三河しろたまり

九州産干し椎茸

国産切干大根

北海道産真昆布

三州三河みりん
そして実は、この先は調整用、保存性向上のための追加原料なのですが、ここにもこだわりを見せるという完璧ぶり。
食塩は海の精(塩分調整用)

醸造酢は福岡の庄分酢さんの米酢(保存性向上目的)

焼酎は碧南の角谷文次郎商店さんの米焼酎(保存性向上目的)
初めの5つの原料が味の基本で、あとの3つの原料が調整用という感じです。
そばつゆにはもちろん、炒め物や煮物、汁物にも、なんにでも合う万能調味料として大活躍するヴィーガンだしの素です。 
ちょっとずるいかもしれないですが、これを台所で使うと何でも料亭の味になってしまいます。和食だけでなく、パスタやサラダ、西洋の料理に少し和の風味を与えるのもぴったりです。
生産者 日東醸造

内容量 400 ml
重量(NET) 681g
原材料 小麦醸造調味料(国内生産)、食塩、みりん、椎茸、切干大根、昆布、醸造酢、焼酎
食品成分表時はこちらをご覧ください(英語)。 details of ingredients & nutritions
Mono Monthly collaboration x Malica ferments
This is a Mono Monthly collaboration edition with Marika Groen from Malica ferments, a Japanese fermentation specialist based in Amsterdam. Under the topic  "HARA FARM'S 100% ORGANIC BUCKWHEAT SOBA FEAT. NITTO'S VEGAN SHIRO DASHI", Mono Japan introduces Marika's special selection of organic buckwheat soba and vegan shiro dashi.