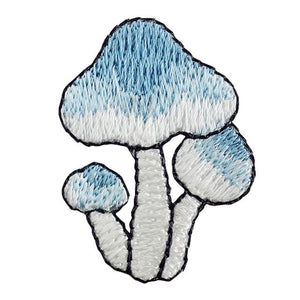 Embroidery patch ''Aoshimeji Mushroom''
In the family of ''Tricholomataceae'', ''Aoshimeji'' grow in the fall and appear in clusters in fields next to roads. The white parts of the embroidered mushrooms change color when exposed to ultraviolet light. 
The patches in the Mushroom series are inspired by an old "Illustrated Guide to Herbal Medicine" by Kanen Iwasaki from the Edo Period(1603-1867). 
Product
Brand KYO-TO-TO
Size 2.5cmx3cm
Material Embroidery thread: 100% Rayon, Glue Sheet: 100% Nylon
Made in Kyoto, Japan
Attention
The patches can be ironed on cotton and polyester materials. UV thread is used for the white parts and is a heat-sensitive material. Use a damp cloth with low-ironing as threads may melt with hot-ironing. Machine-stitch is recommended to enhance strength.

Commercial use of this product is strictly prohibited.