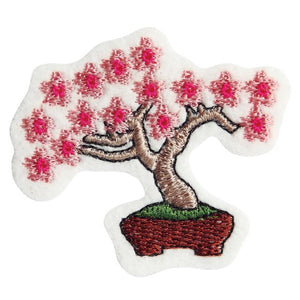 Embroidery patch ''Cherry blossom''
Cherry blossoms are the herald of spring in Japan. The Japanese heart and mind.

Our embroidery patches are small fragments of Japanese culture. Showing lifestyle during different periods and occasions. Easily iron them on hand towels, T-shirts, Furoshikis or other items for decoration and creative fun!

Product
Brand KYO-TO-TO
Size 4cmx5cm
Material Foundation: 100% Polyester, Embroidery thread: 100% Rayon, Glue Sheet: 100% Nylon
Made in Kyoto, Japan
Attention
The patches can be ironed on cotton and polyester materials. Use a damp cloth under the iron when ironing, and be extra careful if you are ironing on heat-sensitive materials. Machine-stitching is recommended to enhance strength
Commercial use of this product is strictly prohibited.