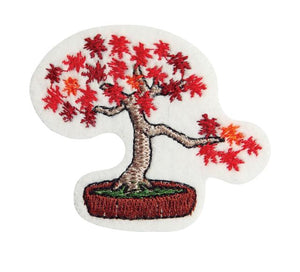 Embroidery patch ''Maple''
Representing leafy bonsais. The leaves turn a beautiful, vivid crimson in the fall.
Our embroidery patches are small fragments of Japanese culture. Showing lifestyle during different periods and occasions. Easily iron them on hand towels, T-shirts, Furoshikis or other items for decoration and creative fun!
Product
Brand KYO-TO-TO
Size 4.5cmx5cm
Material Foundation: 100% Polyester, Embroidery thread: 100% Rayon, Glue Sheet: 100% Nylon
Made in Kyoto, Japan
Attention
The patches can be ironed on cotton and polyester materials. Use a damp cloth under the iron when ironing, and be extra careful if you are ironing on heat-sensitive materials. Machine-stitching is recommended to enhance strength. 
Commercial use of this product is strictly prohibited.