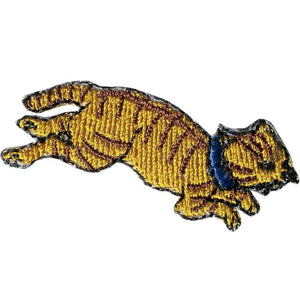 Embroidery patch ''Odawara''
Mudadora. A grey tiger cat, "Dora", chasing a mouse in vain. It is "muda", a wasted effort.

Travelling cats were drawn in the Edo period by Ukiyo-e artist Kuniyoshi Utagawa. Kuniyoshi likened 53 stations on the historical Tokaido road with 55 comically twisted gestures of cats. The series is known as "Myokaiko Gojusanbiki".
Product
Brand KYO-TO-TO
Size 4.5cmx2.5cm
Material Embroidery thread: 100% Rayon, Glue Sheet: 100% Nylon
Made in Kyoto, Japan
Attention
The patches can be ironed on cotton and polyester materials. Use a damp cloth under the iron when ironing, and be extra careful if you are ironing on heat-sensitive materials. Machine-stitching is recommended to enhance strength. 

Commercial use of this product is strictly prohibited.