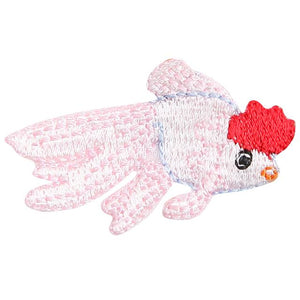 Embroidery patch ''Red Cap Oranda''
Due to their red hoods, they somewhat resemble red-crown cranes, which makes them very popular in Japan. In China, rare breeds were presented to emperors to be bred and kept. The Red Cap Oranda was one of those rare breeds that comes from the family of Oranda Lionheads. They were imported to Japan in 1955. They are tough fish with good looking, firm tails.
Product
Brand KYO-TO-TO
Size 2.5cmx4cm
Material Embroidery thread: 100% Rayon, Glue Sheet: 100% Nylon
Made in Kyoto, Japan
Attention
The patches can be ironed on cotton and polyester materials. Use a damp cloth under the iron when ironing, and be extra careful if you are ironing on heat-sensitive materials. Machine-stitching is recommended to enhance strength. 

Commercial use of this product is strictly prohibited.