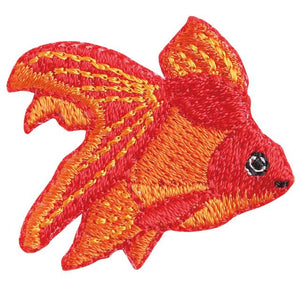 Embroidery patch ''Ryukin Goldfish''
Due to their rounded shape and long tail, they swim rather unsteadily, which makes them look adorable to many. However, pet owners of this goldfish should keep water currents in their aquariums in mind, because they get easily turned over. Moreover, they should be kept indoors and look better when viewed from the side. Since they came from Ryukyu, Okinawa about 230 years ago, by now they are very familiar to Japanese people. 
Product
Brand KYO-TO-TO
Size 2.5cm x 3cm
Material Embroidery thread: 100% Rayon, Glue Sheet: 100% Nylon
Made in Kyoto, Japan
Attention
The patches can be ironed on cotton and polyester materials. Use a damp cloth under the iron when ironing, and be extra careful if you are ironing on heat-sensitive materials. Machine-stitching is recommended to enhance strength.

Commercial use of this product is strictly prohibited.