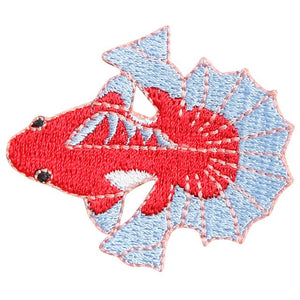 Embroidery patch ''Tosakin Goldfish''
Characterized by a big tail which is swung softly from right to left and spreads horizontally like a fan. Ideally fitted within a circle centring in the middle of the body. It was originally domestically bred in Kochi prefecture where it is considered a national treasure. Nowadays it has become one of the three major goldfish in Japan.
Product
Brand KYO-TO-TO
Size 2.5cmx3.5cm
Material Embroidery thread: 100% Rayon, Glue Sheet: 100% Nylon
Made in Kyoto, Japan
Attention
The patches can be ironed on cotton and polyester materials. Use a damp cloth under the iron when ironing, and be extra careful if you are ironing on heat-sensitive materials. Machine-stitching is recommended to enhance strength. 

Commercial use of this product is strictly prohibited.